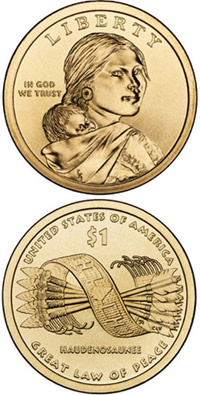 A new series of circulating dollar coins was recently launched known as the Native American Dollars. These coins feature the obverse of the prior Sacagawea Dollar paired with an annually rotating reverse design which will celebrate the accomplishments and contributions of Native Americans.
The series was authorized under Public Law 110-82, The Native American $1 Coin Act, which requires the United States Secretary of the Treasury to "mint and issue coins in commemoration of Native Americans and the important contributions made by Indian tribes and Individual Native Americans to the development of the United States."
The first Native American Dollar was issued in 2009. The reverse design highlighted the "Three Sisters" method of planting with the depiction of a Native American woman planting seeds in a field of corn, beans and squash.
The design selected for the year 2010 was based on the theme " Government – The Great Tree of Peace." The design features the Hiawatha Belt which is a visual record of the Haudenosaunee, also known as the Iroquois Confederacy. The belt encircles five arrows representing the Onondaga, Mohawk, Oneida, Cayuga, and Seneca Nations.
For 2011, the theme will be "Diplomacy – Treaties with Tribal Nations." The focus of the design will be the creation of the treaty between the Great Wampanoag Nation and the settlers at Plymouth Rock.
The Native American Dollars will be issued along side the Presidential Dollars series, which features four different dollar coins honoring past Presidents of the United States. By law, each year at least 20% of all dollar coins produced, must be Native American Dollars. This results in a roughly equal proportion between the five different dollar coin designs released for each year.
This site provides information on the Native American Dollar series from its launch in 2009 through all subsequent releases. Information will be added or updated as the series progresses to include the latest mintages, release information, and coin designs.