The 2011 Native American Dollar will feature the third new reverse design of the series. Each year, a different design is created to honor the contributions and accomplishments of Native Americans. The theme for the 2011 design is Diplomacy – Treaties with Tribal Nations.
The reverse design focuses on the first written treaty between Native Americans and English settlers in what would become the United States of America. The treaty was between John Carver, Governor of the settlement at Plymouth, Massachusetts, and Sachem Ousamequin, Massasoit (head chief) of the Great Wampanoag Nation.
The design by United States Mint Artistic Infusion Program Master Designer Richard Masters depicts the hands of John Carver and the Massasoit are shown exchanging the ceremonial peace pipe after the initiation of the alliance. The inscriptions "United States of America" and "$1″ appear above, while "Wampanoag Treaty 1621″ appears below. This image was viewed as an uncluttered and more symbolic representation of the them, as opposed to some of the more literal interpretations of recent U.S. coins.
On the obverse of the coin, the portrait of Sacagawea and child designed by Glenna Goodacre will continue to appear. The obverse inscriptions inlcude "Liberty", and "In God We Trust". The date, mint mark, and "E Pluribus Unum" appear on the edge of the coin.
A launch ceremony for the 2011 Native American Dollar has been planned for January 12, 2011 at the Plimouth Plantation in Plymouth Massachusetts.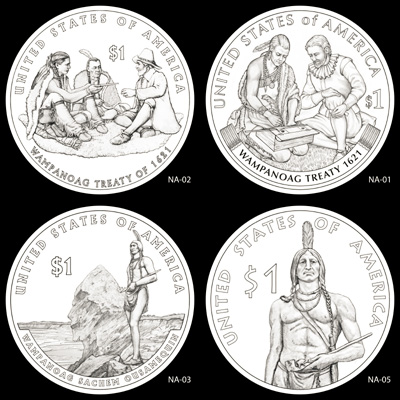 Prior to the final design selection, the United States Mint had provided numerous design candidates to the Citizens Coinage Advisory Committee, Commission of Fine Arts, and others for review and comment. The alternate designs featured John Carver and the Massasoit discussing or signing the treaty and view of the Massasoit by himself.
Both the CFA and CCAC had favored the design depicting hands exchanging a peace pipe. The United States Secretary of the Treasury had the final authority to select the reverse design.