Guide to U.S. Native American Dollars
The Native American Dollar Program launched in 2009 to honor the contributions and accomplishments of Native Americans. The series features the obverse design from the previous Sacagawea Dollar series paired with an annually rotating reverse design. The coins were initially struck and released for general circulation, however from 2012 onward the coins have only been produced in the quantities necessary to fulfill demand from collectors.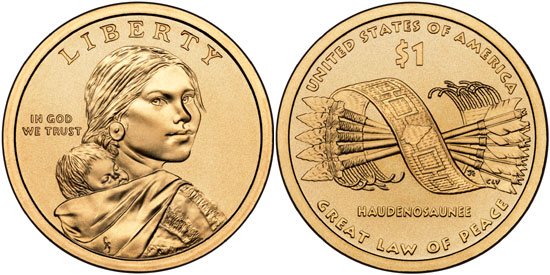 The program was authorized under the Native American $1 Coin Act, signed into law by President George W. Bush on September 20, 2007. The Act required the Secretary of the Treasury to "mint and issue coins in commemoration of Native Americans and the important contributions made by Indian tribes and individual Native Americans to the development of the United States and the history of the United States."
The obverse of each coin features the portrait of Sacagawea and her child Jean Baptiste Charbonneau. This design was created by Glenna Goodacre and used for the prior Sacagawea Dollar series. The inscription LIBERTY appears above, with the motto IN GOD WE TRUST in the left field. The date and mint mark were moved from their previous position in the right field to the edge of the coin.
The reverse of each coin carries a design emblematic of one important Native American or Native American contribution. The specific themes as well as the actual designs are selected by the Secretary of the Treasury following consultation with the Committee on Indian Affairs of the Senate, the Congressional Native American Caucus of the House of Representatives, the Commission of Fine Arts, the National Congress of American Indians, and review by the Citizens Coinage Advisory Committee. The required reverse inscriptions are UNITED STATES OF AMERICA and the denomination expressed as "$1".
The following design themes have been chosen for the program:
2009: Agriculture and Three Sisters Method of Planting
2010: Government and the Great Tree of Peace
2011: Diplomacy Treaties with Tribal Nations
2012: Trade Routes in the 17th Century
2013: Delaware Treaty of 1778
2014: Native Hospitality and the Lewis and Clark Expedition
2015: Mohawk Ironworkers
2016: Native American Code Talkers of World War I and World War II
2017: Sequoyah, Inventor of the Cherokee Syllabary
2018: Jim Thorpe
2019: American Indians in the Space Program
2020: Elizabeth Peratrovich and Alaska's Anti-Discrimination Law
2021: Native Americans in the U.S. Military
For the initial years of the series, the Native American Dollars were issued alongside the Presidential Dollars, which featured four different designs per year honoring the former Presidents of the United States. Legislation required that at least 20% of all dollar coins produced each year must carry the Native American Dollar designs. This requirement resulted in relatively high mintages from 2009 to 2011 and then minimal production from 2012 to present when dollar coins were struck only for numismatic purposes.