The Native American Dollar coin series launched in 2009 to honor the contributions and accomplishments of Native Americans. Each year, a unique reverse design representing a different theme has been paired with the popular obverse design featuring Sacagawea.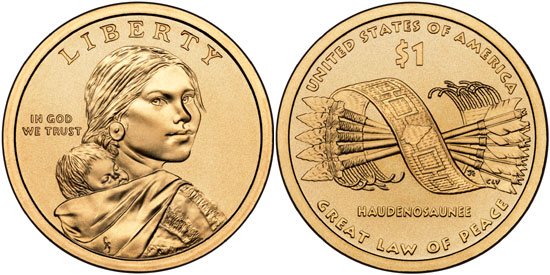 The series was authorized under Public Law 110-82: The Native American $1 Coin Act, enacted on September 20, 2007. The legislation requires the Secretary of the Treasury to "mint and issue coins in commemoration of Native Americans and the important contributions made by Indian tribes and individual Native Americans to the development of the United States and the history of the United States."
The reverse design for each year is to be emblematic of one important Native American or Native American contribution. To the extent possible, the design themes are to be issued in the chronological order in which the Native Americans lived or the events occurred.
The themes to be depicted as well as the actual designs are selected by the Secretary of the Treasury following consultation with the Committee on Indian Affairs of the Senate, the Congressional Native American Caucus of the House of Representatives, the Commission of Fine Arts, the National Congress of American Indians, and review by the Citizens Coinage Advisory Committee.
The following design themes have been chosen for the program:
2009: Spread of Three Sisters Agriculture
2010: Government and the Great Tree of Peace
2011: Diplomacy Treaties with Tribal Nations
2012: Trade Routes in the 17th Century
2013: Delaware Treaty of 1778
2014: Native Hospitality and the Lewis and Clark Expedition
2015: Mohawk Ironworkers
2016: Native American Code Talkers of World War I and World War II
The obverse design for each year of the series has featured the portrait of Sacagawea and child originally designed by Glenna Goodacre for the previous Sacagawea Dollar series. For the current series, the design was slightly modified by moving the inscriptions of the date and mint mark to the edge of the coin where they appear along with the motto "E Pluribus Unum".
Native American Dollars have been issued alongside the Presidential Dollar series, which features four different designs per year honoring the former Presidents of the United States. Legislation requires that each year at least 20% of all dollar coins produced must carry the Native American Dollar designs. This requirement has had a significant impact of the mintage levels throughout the series.