The 2009 Native American Dollar (Buy on eBay) represented the first release of the new series created to honor the contributions made by Indian tribes and individual Native Americans to the development and history of the United States. A different theme would be selected for each year of the series and depicted on a unique reverse design.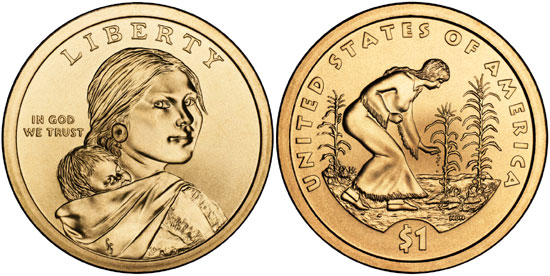 The reverse design for the first year of the program carried an agriculture theme. Agriculture had played an important part in Native American culture as they sought to live with the land and understand the surrounding natural resources. The Native Americans would share their knowledge of agriculture with Europeans when they arrived in the New World, helping to ensure their survival.
The "Three Sisters" method of planting is depicted on the reverse of the 2009 Native American Dollar. A woman is shown planing seeds in a field of beans, corn, and squash. The productivity of each plant was increased by growing together within the same plot. The corn stalks provided support for the bean vines, which added nitrogen to the soil. The squash provided ground cover, reducing weeds.
The obverse design of the coin featured the portrait of Sacagawea and child used for the previous Sacagawea Dollar series, issued from 2000 to 2008. The design was slightly modified by moving the date and mint mark to the edge of the coin. The motto "E Pluribus Unum" additionally appears on the edge of the coin.
The 2009 Native American Dollar was released into circulation on January 2, 2009. A ceremony was held at the National Museum of the American Indian at the Smithsonian Institution on January 17, 2009. The festivities included a ceremonial pour of new coins by the Director of the United States Mint from an authentic hand crafted Native American basket. Newly minted coins were given to children who attended the ceremony.
2009 Native American Dollar Specifications and Mintage
Designers: Glenna Goodacre (obverse), Norman E. Nemeth (reverse)
Mintage: 39,200,000 (Philadelphia), 35,700,000 (Denver)
Composition: 88.5% copper, 6% zinc, 3.5% manganese, 2% nickel
Diameter: 26.5 mm
Weight: 8.1g
Thickness: 2.0 mm
Edge: Lettered