The series created to honor the contributions and accomplishments of Native Americans on annually rotating reverse designs reached its third year. The 2011 Native American Dollar (Buy on eBay) featured the theme "Supreme Sachem Ousamequin, Massasoit of the Great Wampanoag Nation Creates Alliance with Settlers at Plymouth Bay."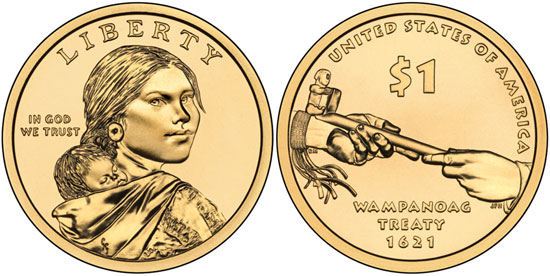 In 1621, the Supreme Sachem Ousamequin Massasoit of the Wampanoag Tribe made a formal treaty with the English who had settled in what is now Plymouth, Massachusetts. The Massasoit had promised to defend the settlers against hostile tribes and in return for their intervention if his people were attached. This is believed to be the first written peace treaty between a Native American tribe and European settlers.
The reverse design selected to represent the theme took a symbolic approach and showed a depiction of the hands of the Massasoit and Governor John Carver exchanging the ceremonial peace pipe after the initiation of the alliance. An inscription below reads "Wampanoag Treaty 1621". The reverse was designed by Richard Masters and engraved by Joseph Menna.
On the obverse of the coin was the portrait of Sacagawea and child designed by Glenna Goodacre. The inscriptions included "Liberty" and "In God We Trust". The date, mint mark, and "E Pluribus Unum" appear as incused edge lettering.
The United States Mint held an official launch ceremony for the 2011 Native American Dollar on March 25, 2011 at the Bicultural Museum of Plimoth Plantation in Plymouth, Massachusetts. Speakers included representatives from the United States Mint, Wampanoag Tribe, and the Smithsonian Institution's National Museum of the American Indian.
In early March, the Mint made the 2011 Native American Dollars available for purchase at face value through the Direct Ship Program. On March 28, 2011, specially packaged 25-coin rolls of the coins were offered for sale at $39.95 each.
2011 Native American Dollar Specifications and Mintage
Designers: Glenna Goodacre (obverse), Richard Masters (reverse)
Mintage: 29,400,000 (Philadelphia), 48,160,000 (Denver)
Composition: 88.5% copper, 6% zinc, 3.5% manganese, 2% nickel
Diameter: 26.5 mm
Weight: 8.1g
Thickness: 2.0 mm
Edge: Lettered