The 2020 Native American Dollar (Buy on eBay) honors Elizabeth Peratrovich, who worked for equality on behalf of Alaskan Natives. She was a member of the Tlingit nation and Grand President of the Alaska Native Sisterhood. Her advocacy was credited as being instrumental to the passage of Alaska's Anti-Discrimination Law in 1945, representing the first state or territorial anti-discrimination law in the United States.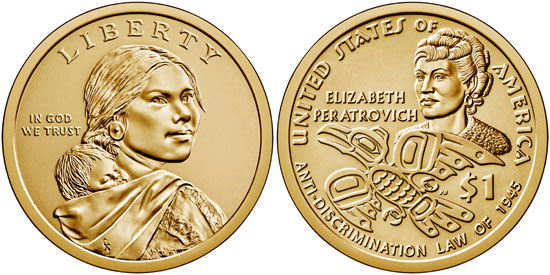 The obverse design continues to feature the portrait of Sacagawea and her infant son Jean Baptiste Charbonneau. The inscriptions read "Liberty" and "In God We Trust". The obverse was designed by Glenna Goodacre and originally utilized for the Sacagawea Dollar series.
The reverse design features a portrait of Elizabeth Peratrovich along with a symbol of the Tlingit Raven moiety, one of the descent groups of the Tlingit people of Southeast Alaska. The inscriptions read "United States of America", "Elizabeth Peratrovich", "$1", and "Anti-Discrimination Law of 1945". The reverse was designed by Phebe Hemphill.
On February 12, 2020, the United States Mint began accepting orders for products containing 2020 Native American Dollars. The products included 25-coin rolls, 100-coin bags, and 250-coin boxes containing circulating quality coins from the Philadelphia or Denver Mints. These coins were not issued for general circulation and only struck in the quantities necessary to fulfill demand from collectors. The mintage levels reached 1.4 million pieces from the Philadelphia Mint and 1.26 million pieces from the Denver Mint.
[ads_flaot_right]
2020 Native American Dollar Specifications and Mintage
Designers: Glenna Goodacre (obverse), Phebe Hemphill (reverse)
Mintage: 1,400,000 (Philadelphia), 1,260,000 (Denver)
Composition: 88.5% copper, 6% zinc, 3.5% manganese, 2% nickel
Diameter: 26.5 mm
Weight: 8.1g
Thickness: 2.0 mm
Edge: Lettered