The 2017 Native American Dollar (Buy on eBay) honors Sequoyah, the inventor the Cherokee Syllabary. In the late 1810's and early 1820's, Sequoyah created symbols for each syllable in the Cherokee language, representing the development of an original writing system. The Cherokee Nation adopted this system and within months thousands of Cherokee became literate.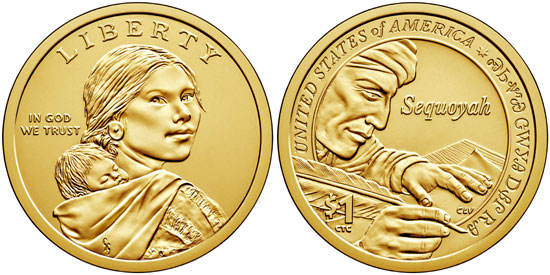 The obverse of the coin carries the image of Sacagawea and child designed by Glenna Goodacre. The inscriptions read "Liberty" and "In God We Trust".
The reverse design features an image of Sequoyah writing the words "Sequoyah from Cherokee Nation" around the border of the design. Additional inscriptions include "United States of America", "Sequoyah", and "$1". The reverse was designed by Chris Costello and sculpted by Charles L. Vickers.
On January 25, 2017, the United States Mint began accepting orders for bags, rolls, and boxes of circulating quality 2017 Native American Dollars struck at the Philadelphia or Denver Mint. The coins were not issued for general circulation, but only available within numismatic products.
Later in the year the United States Mint released the 225th Anniversary Enhanced Uncirculated Coin Set. This product contained ten coins struck at the San Francisco Mint featuring an enhanced uncirculated finish featuring a combination of laser-frosted areas and unpolished fields to accentuate design details. This product contained the 2017 Enhanced Uncirculated Native American Dollar and was limited to a mintage of 225,000 units.
2017 Native American Dollar Specifications and Mintage
Designers: Glenna Goodacre (obverse), Chris Costello (reverse)
Mintage: 1,820,000 (Philadelphia), 1,540,000 (Denver)
Composition: 88.5% copper, 6% zinc, 3.5% manganese, 2% nickel
Diameter: 26.5 mm
Weight: 8.1g
Thickness: 2.0 mm
Edge: Lettered