The seventh annual release within the Native American $1 Coin Program honored the Mohawk Ironworkers who worked from 1886 onwards building prominent landmarks in New York City and other skylines.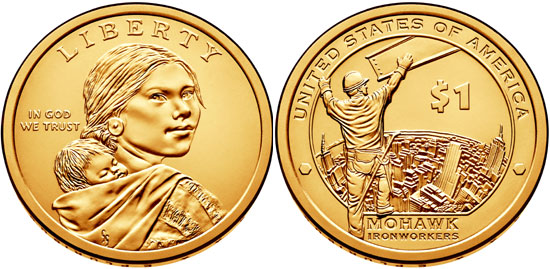 Native Americans have become legendary figures in hazardous occupations. This harkens back to earlier times when warriors were honored for putting their lives at risk in order to protect the welfare and safety of the tribe. In modern times, these risk-takers are seen as contributing to the public good. The Mohawk Ironworkers took part in the construction of such prominent landmarks as the Empire State Building, the Chrysler Building, the George Washington Bridge, and the World Trade Center.
The reverse design of the 2015 Native American Dollar (Buy on eBay) features a depiction of a Mohawk Ironworker reaching for an I-beam as it swings into position. In the background an elevated view of the city skyline can be seen. The denomination "$1" appears within the field. The additional inscriptions "United States of America" and "Mohawk Ironworkers" appear within an outer border with rivets placed at each side. The reverse was designed by Ronald D. Sanders and engraved by Phebe Hemphill.
The obverse features the portrait of Sacagawea and child designed by Glenna Goodacre with inscriptions "Liberty" and "In God We Trust". This design has been used in common throughout the series.
On March 19, 2015, the United States Mint offered for sale circulating quality versions of the 2015 Native American Dollar within various product options. There were 25-coin rolls, 100-coin bags, and 250-coin boxes available in special numismatic packaging priced at a premium to face value. The coins were not released for general circulation.
Throughout the year uncirculated and proof versions of the 2015 Native American Dollar were also incorporated into various annual product offerings.
2015 Native American Dollar Specifications and Mintage
Designers: Glenna Goodacre (obverse), Ronald D. Sanders (reverse)
Mintage: 2,800,000 (Philadelphia), 2,100,000 (Denver)
Composition: 88.5% copper, 6% zinc, 3.5% manganese, 2% nickel
Diameter: 26.5 mm
Weight: 8.1g
Thickness: 2.0 mm
Edge: Lettered