The 2019 Native American Dollar (Buy on eBay) carries the theme of American Indians in the Space Program. The contributions of Native Americans in the U.S. space program have ranged from the pioneering work of Mary Golda Ross of the Cherokee Nation to the space walks of John Herrington of the Chickasaw Nation.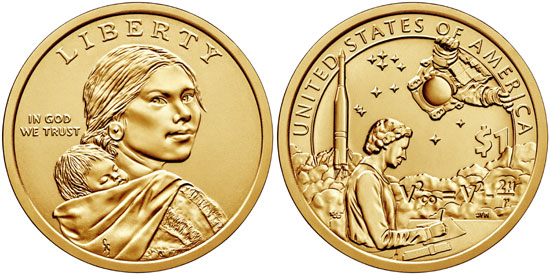 The obverse design of the coin retains the portrait of Sacagawea carrying her infant son, as designed by Glenna Goodacre. The inscriptions read "Liberty" and "In God We Trust".
The reverse features engineer Mary Golda Ross writing calculations with an Atlas-Agena rocket launching into space with an equation inscribed in its cloud. An astronaut also appears to represent Native American astronauts, including John Herrington. The remaining inscriptions read "United States of America" and "$1". The reverse was designed by Emily Damstra and sculpted by Joseph Menna.

On February 13, 2019, the United States Mint began sales of 2019 Native American Dollars in 25-coin rolls, 100-coin bags, and 250-coin boxes. These circulating quality coins were struck at the Philadelphia or Denver Mint facilities and not issued for circulation. The Philadelphia issue had a final mintage of 1,400,000 pieces and the Denver issue had a final mintage of 1,540,000 pieces.
The United States Mint also offered the 2019 Native American $1 Coin & Currency Set on July 24, 2019. This product included an enhanced uncirculated 2019 Native American Dollar struck at the Philadelphia Mint and one 2017 Series Federal Reserve $1 Note produced by the Bureau of Engraving and Printing. This special product was limited to production of 50,000 units.
2019 Native American Dollar Specifications and Mintage
Designers: Glenna Goodacre (obverse), Emily Damstra (reverse)
Mintage: 1,400,000 (Philadelphia), 1,540,000 (Denver)
Composition: 88.5% copper, 6% zinc, 3.5% manganese, 2% nickel
Diameter: 26.5 mm
Weight: 8.1g
Thickness: 2.0 mm
Edge: Lettered