The 2012 Native American Dollar (Buy on eBay) represented the fourth year of the ongoing series created to recognize the contributions and accomplishments of Native Americans. Starting this year, the circulation strike mintage levels for the series declined to significantly lower levels.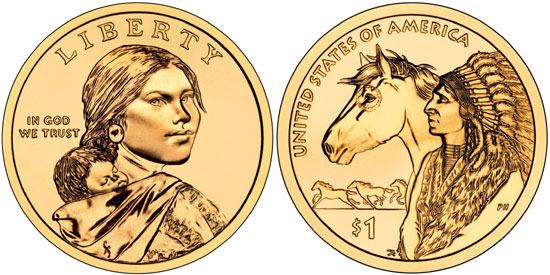 The theme for the reverse design of the coin was "Trade Routes in the 17th Century." Native American tribes had maintained widespread inter-continental trade for more than a millennium. When European settlers began to venture westward, they followed these trade routes often accompanied by Native American guides. During this period, the horse became both a prized commodity and means of transportation throughout the western territories.
The reverse design of the coin carries a depiction of a Native American and horse in profile. A line of horses is also shown running across the background to represent the historical spread of the horse. The inscriptions read "United States of America" and "$1". The reverse was designed by Thomas Cleveland and engraved by Phebe Hemphill.
The obverse carried the portrait of Sacagawea and child designed by Glenna Goodacre used throughout the course of the series. The inscriptions read "Liberty" and "In God We Trust". The date and mint mark of the coin, as well as the motto "E Pluribus Unum" appear as incused edge lettering.
After producing circulating quality coins in the tens of millions for the first three years of the series, the production levels for the series would decline to minimal levels starting with this release. The decline was the result of the suspension of production of Presidential Dollars for circulation. The authorizing legislation for the Native American Dollars had required a fixed proportion of production between the two $1 coin series. With far fewer Presidential Dollars struck, the Native American Dollars followed suit.
The United States Mint struck 2,800,000 circulating quality coins at Philadelphia and 3,080,000 circulating quality coins at Denver for this year. The coins were distributed within 25-coin rolls, 100-coin bags, 250-coin boxes, and 500-coin boxes offered as numismatic products and priced at a premium to face value.
2012 Native American Dollar Specifications and Mintage
Designers: Glenna Goodacre (obverse), Thomas Cleveland (reverse)
Mintage: 2,800,000 (Philadelphia), 3,080,000 (Denver)
Composition: 88.5% copper, 6% zinc, 3.5% manganese, 2% nickel
Diameter: 26.5 mm
Weight: 8.1g
Thickness: 2.0 mm
Edge: Lettered