The 2018 Native American Dollar (Buy on eBay) honors James Francis "Jim" Thorpe, who is considered one of the most versatile athletes in modern sports. Thorpe was born in Indian Territory and raised in the Sac and Fox Tribe. His athletic ability was recognized when he attended Carlisle Indian Industrial School in Pennsylvania. Following an impressive college athletic career, he went on to earn two Olympic gold medals and play professional football, baseball, and basketball.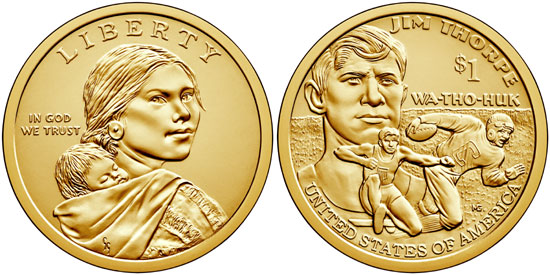 The obverse design of the coin features the portrait of Sacagawea and child designed by Glenna Goodacre. The obverse inscriptions read "Liberty" and "In God We Trust".
The reverse design carries an image of Jim Thorpe with highlights of his achievements in football and the Olympics in the foreground. An inscription includes his native name "Wa-Tho-Huk," meaning "Bright Path." Additional inscriptions include "Jim Thorpe", "$1", and "United States of America". The reverse was designed by Michael Gaudioso.
The United States Mint began sales of bags, rolls, and boxes of 2018 Native American Dollars on February 15, 2018. These circulating quality coins were struck at the Philadelphia and Denver Mint facilities. The coins were not released for general circulation and had a final mintage of 1,400,000 pieces at each mint.
[ads_flaot_right]
2018 Native American Dollar Specifications and Mintage
Designers: Glenna Goodacre (obverse), Michael Gaudioso (reverse)
Mintage: 1,400,000 (Philadelphia), 1,400,000 (Denver)
Composition: 88.5% copper, 6% zinc, 3.5% manganese, 2% nickel
Diameter: 26.5 mm
Weight: 8.1g
Thickness: 2.0 mm
Edge: Lettered