The 2021 Native American Dollar (Buy on eBay) carries the theme of Native Americans in the U.S. Military. Native Americans have served in the Armed Forces for each of the nation's conflicts starting with the Revolutionary War. They have consistently served at a higher rate in proportion to their population than any other ethnic group. Native Americans have received recognition for their service, including five Medals of Honor.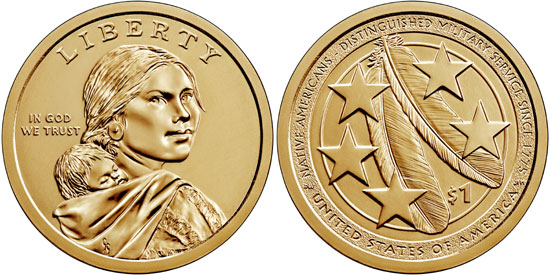 The obverse design features the portrait of Sacagawea and child designed by Glenna Goodacre. The inscriptions read "Liberty" and "In God We Trust".
The reverse design features eagle feathers, which were traditionally earned by Native Americans in battle or for performing a brave deed. Five represent the five branches of the U.S. Military, the Army, Navy, Air Force, Marines, and Coast Guard. The inscriptions read "Native Americans – Distinguished Military Service Since 1775", "United States of America", and "$1". The reverse was designed by Donna Weaver.
The United States Mint began sales of 2021 Native American Dollar products on February 16, 2021. The products included circulating quality coins struck at the Philadelphia or Denver Mints in 25-coin rolls, 100-coin bags, and 250-coin boxes. These coins were not issued for general circulation and had mintage of 1.26 million pieces per mint.
2021 Native American Dollar Specifications and Mintage
Designers: Glenna Goodacre (obverse), Donna Weaver (reverse)
Mintage: 1,260,000 (Philadelphia), 1,260,000 (Denver)
Composition: 88.5% copper, 6% zinc, 3.5% manganese, 2% nickel
Diameter: 26.5 mm
Weight: 8.1g
Thickness: 2.0 mm
Edge: Lettered