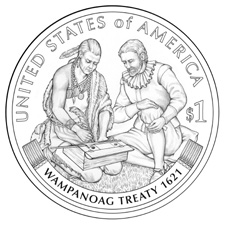 The Native American Dollar Coin Program began in 2009. The obverse of the coins featured the image of Sacagawea and child that has been used on golden dollar coins since 2000. The reverse of the new series features an annually rotating design, which celebrates the important figures, events, and contributions from Native Americans.
The authorizing legislation H.R. 2358 The Native American $1 Coin Act included several suggestions for reverse designs:
Creation of the Cherokee written language
Existence of the Iroquois Confederacy
Chief Massasoit of the Wampanoag
The Pueblo Revolt
Olympic Champion Jim Thorpe
General Ely S. Parker, Head of Indian Affairs
Navajo Code Talkers
Until the end of the Presidential Dollar Program, the reverse designs of Native American Dollars will be issued in chronological order of the figures and events featured, to the extent possible. The US Mint will create a time line of events until at least 2016 to be used for the creation of coin designs.
During the design evaluation process for each year of the series, the United States Mint will consult with the Senate Committee on Indian Affairs, House of Representatives Congressional Native American Caucus, Commission of Fine Arts, National Congress of American Indians, and Citizens Coinage Advisory Committee (CCAC). The Secretary of the Treasury will weigh the inputs of the various committees and the US Mint and make the final design decision.
The reverse designs selected for 2009 and 2010 have featured the "Three Sisters" method of planting and the formation of the Iroquois Confederacy. The design for 2011 will feature Chief Massasoit of the Wampanoag signing the first written treaty with European settlers. Details on the design themes for subsequent years has not yet been provided.