For certain years of the series, the United States Mint has produced Native American Dollars with a special enhanced uncirculated finish. This finish utilizes two or more levels of frosting to create unique highlights within the design for a distinctive appearance. The enhanced uncirculated coins have only been issued within limited production numismatic sets.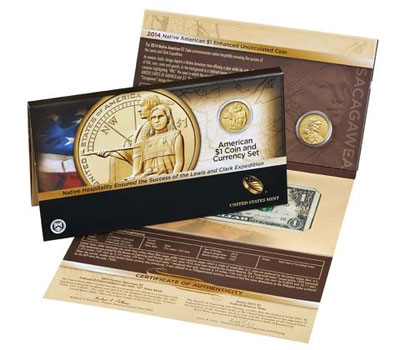 The first Enhanced Uncirculated Native American Dollars (Buy on eBay) were issued within the 2014 American $1 Coin and Currency Set. This product included the 2014-D Native American Dollar with the theme of native hospitality paired with a 2013 series $1 Federal Reserve Note. The coin was revealed to have an enhanced uncirculated finish and was only available within the set, which was limited to 50,000 units.
Similar Coin and Currency Sets were also issued for the years 2015, 2016, and 2019. These sets included Native American Dollars with an enhanced uncirculated finish, which were struck at the West Point, San Francisco, and Philadelphia Mints, respectively. Similarly, these products carried a production limit, keeping the overall distribution low.
The United States Mint would also issue the 225h Anniversary Enhanced Uncirculated Set in 2017. This product contained ten different coins each struck with an enhanced uncirculated finish at the San Francisco Mint. This product was limited to a mintage of 225,000 units.